OK, I think I know what you're thinking: It's almost the end of April and it seems a little late for a recap of 2017. Heck, 2018 is already more than a quarter of the way behind us. But, I ask you this: is it ever too late to perform a little healthy reflection on where we've been and the path we've taken to get where we are today?
For me, 2017 was an exceptionally bumpy ride on the roller coaster of life. I struggled inward probably a lot more than I let on outward. I questioned a lot of the ways in which I was spending my time and whether these activities were serving my long-term goals. The purpose of this post is to reflect. And to maybe share something that will resonate with YOU!
Quarter One: On the Road
2017, for me, began in a warehouse in Brooklyn. I was at an EDM concert featuring Gareth Emery. This was a sabbatical from the Run Across America "project" I had been working on since September 2016. Although in terms of the progress of the run we were only in Virginia, we moved ahead as an (almost) complete team to celebrate the coming of a new year.
In the months that followed, we moved our way through Virginia, Washington D.C., Maryland, Delaware, Pennsylvania, New Jersey, and finally into New York where the run finished at the 9/11 Memorial site. The next day I was in a truck heading down to New Jersey to help my cousin and his girlfriend prepare for their own cross-country move to San Diego.
After a little under a week in Jersey, we set out with sights on Austin, Texas, where my brother is living and where I resided prior to the Run Across America. As we drove from Jersey south and into North Carolina, then through Georgia, Alabama, Mississippi, Louisiana, and finally into Texas, my heart was full of pride for the time I had invested over the previous six months and excitement for a more "domesticated" lifestyle back in Austin.

Quarter Two: Back in Austin
Arriving back in Austin in early February, I was ready to get back to work as an outdoor guide. I quickly had an interview set up with my old boss, who had given me the green light to embark on the Run Across America journey six months earlier. But, a few things had happened in that time.
First, the journey was supposed to last only 2 months. While this was an unrealistic goal in hindsight, it led to me extending my time away from the job I previously had several times over. This put understandable stress on my relationship with my boss. So going into my interview (let's call it an 'I'm back interview'), I was excited but also a little nervous.
My boss wanted to know my long-term plans. I didn't have any. I told her I could commit at least through the summer. I think she sensed some hesitation about my comfort level with living in Austin for an extended period before I even knew that I had a discomfort about that idea.
Nevertheless, I had my old job back after the interview and I hit the ground running. Life was busy, but fun. Days were spent teaching lifeguarding and wilderness first aid, taking school and business groups kayaking or paddleboarding on Lady Bird Lake, guiding a river trip out in East Texas, and with countless other exciting and valuable programs.
My brother and I moved out of the apartment we had been in at the end of our year-lease and into a nice house with an amazing landlady. We each now had separate rooms (as opposed to sharing as we had been), and we liked having our space. We were looking forward to our parents visiting for the 4th of July holiday.
Quarter 3: The Lowpoint
A few weeks before the 4th of July, work led me out to the hill country to teach a lifeguarding class for upwards of 40 students. I went along with three co-workers. The week before we would teach, we had our own learning to do, as we completed a high ropes training class. This class went great and I was excited about new knowledge and the opportunity to apply it.
The first couple days of class went great, with the four of us as instructors presiding over about 10 students at a time during skills practice. Then we received word that the four of us were not supposed to be teaching every day of class together. Hours needed to be managed and each of us should be taking at least one day during the class. This was news to all of us, and without getting into too much detail, it didn't sit too well.
This description may not serve to fully convey the emotional toll of the situation, but it was not the first time that instructions had been unclear and undue tongue-lashings had been doled out as a result. I went from very excited about my future with that company to very much questioning my role and commitment within a few days.
Then my parents came to visit. We had an excellent time showing them Austin and attending Willie Nelson's Picnic on the 4th of July, where we saw Willie and Family, Jamey Johnson, Sheryl Crow, Turnpike Troubadours, and a variety of equally talented and entertaining musicians. My mom had to fly home and my dad would be driving their RV back to Tahoe. This gave he and I one last night to catch up.
In the RV, we talked of their life back at home, my brother's progress as a musician in Austin, the completion of the Run Across America, and various other topics. I vented some minor frustrations about work, but then he simply asked me, "Are you happy here?" And for the first time in a while, I realized that I couldn't, truthfully, answer, Yes.
I cried. We talked more, trying to pinpoint the source of my uncertainty. I felt that something had to give, but I was scared to make something happen. I felt that I was doing good work for good people, but I was still unhealthy and unhappy.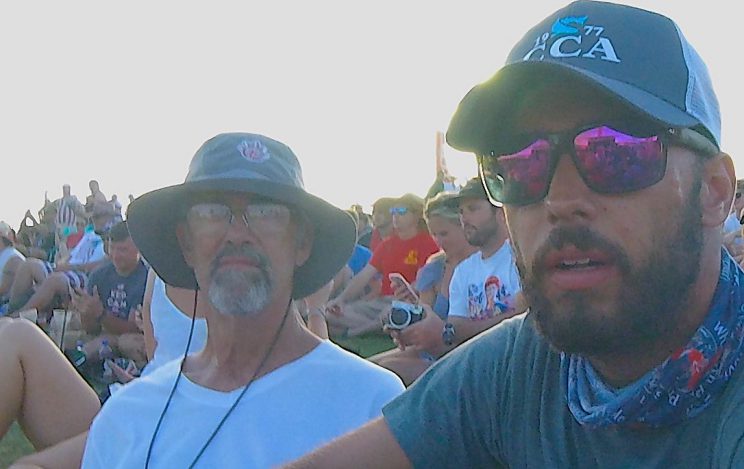 Quarter 4: A Decision for ME!
That talk with my father gave me the confidence I needed to make a change. I'm forever grateful that, for many years, the last thing my father would say to me as I left the house in the morning was, "Have fun!" After all, if we're not having fun and enjoying our time in this life, what is it worth?
After stirring on that conversation for a few more weeks, I decided it was time for a major shift. I decided to leave my job in Austin. I decided to leave my brother and our Husky, Zeke. I decided that Austin was no longer serving me and that, in my current state, I was no longer serving Austin. I decided to move back to Truckee, CA, my home, and to take a guide job with an adventure company there.
Once the decision was made, things didn't automatically brighten up. There were several tough conversations with my boss and coworkers. There was still this feeling that I was operating as a very small version of the man I'd hoped to be. But gradually, things began to shift. I started to get excited about seeing and adventuring with old friends in Truckee.
And, perhaps most importantly, I found a woman who (at the time I had no idea of this) would become my girlfriend and who shares in many of my dreams and many of my passions and who I honestly believe makes me a much better version of myself than I am without her.
I never liked the idea of a long-distance relationship, but with her, it was so easy and so natural. She visited me twice in Truckee during the fall and our time together was magical. She moved down to Costa Rica for four months and encouraged me to come visit her, which is where I sit now writing this blog. I've wanted to come here for more than 5 years and here I am!
Conclusion: Don't Be Afraid to Change!
At the start of 2017, or even in August when I finally left Austin, I never thought I'd be sitting in Costa Rica at the end of April 2018. I never thought I find a woman that empowers me and helps me remain confident in the man I'm becoming and the skills, knowledge, and experience that I bring to the world.
I spent much of 2017 feeling scared. I stuck with a job for far too long that made me feel like I was always avoiding doing something wrong rather than striving to do something incredible. I had no motivation to pursue my writing passions or a freelance income.
In the time that has passed (and I honestly haven't thought of this until just now) since I made the decision to make a big change in my life, so much has happened. I have self-published two books. I have built trust with a new employer. I have significantly improved my financial standing. I have rebuilt a reliable and sustainable freelance writing business.
I have built savings and paid down debts. I have traveled to experience a new place. I have renewed brainstorming on and planning for on a future vision that, for a long time, I felt was only moving further and further away. And most importantly, I have found love.
My final message to you today is: Don't Be Afraid to Make a Change! Change is always scary. None of us are blessed with a crystal ball. (If you are, please keep it to yourself. I find the future much more interesting when it is unknown!)
But I'm a firm believer that good things happen when we make decisions to improve ourselves. For so long this year, I was scared to make a decision because I was scared to upset others. I suffered because I was scared others would suffer.
But truly, if I'm not happy, I'm not serving the world to my fullest potential. And that is all I want for you: for you to be happy and for you to fulfill your potential. And that is why I share this journey with you!

Let's Connect! Tell Me What You Think!
If you liked what you read, didn't like what you read, or have questions about what you read, I'd love to hear from you! I'd also like to hear about your 2017 journey and how you've used the lessons from last year to create a better, happier, healthier 2018!
Please leave a comment below if you are inspired, perplexed, saddened, or angered by any of the ideas presented above. I welcome any and all comments and will do my best to respond soon!
I'd also encourage you to share this post with others if you found it particularly insightful or helpful. Be sure to tag @ballisterwriting on Facebook or Instagram if you do! The point of social media, after all, is to be SOCIAL! I don't need followers or likes, but I'd like to contribute to a real conversation about how we continue to improve as a society and as individuals
Thanks for your support!
Tucker Ballister