Knowing where to find paid writing opportunities is a big part of becoming a successful freelance writer. The good news about this industry is that more clients need high-quality writing for their websites than ever before and there are a lot of freelance writing websites to choose from. 
That being said, you're probably seeing some writers out there claiming six-figure annual incomes while others are stuck working at super low rates for clients that don't really appreciate their services. 
So the question is: what are these writers doing differently? The answer is: THEY DON'T SETTLE! 
As freelancers, we set our own rates, but it's often too easy to compromise because you feel like you need the work. One of the best ways to avoid settling for clients that pay you less than your market value is to constantly be searching for new jobs. 
And one way to do that is to constantly be perusing the best freelance writer websites! 
Writing Jobs for Freelancers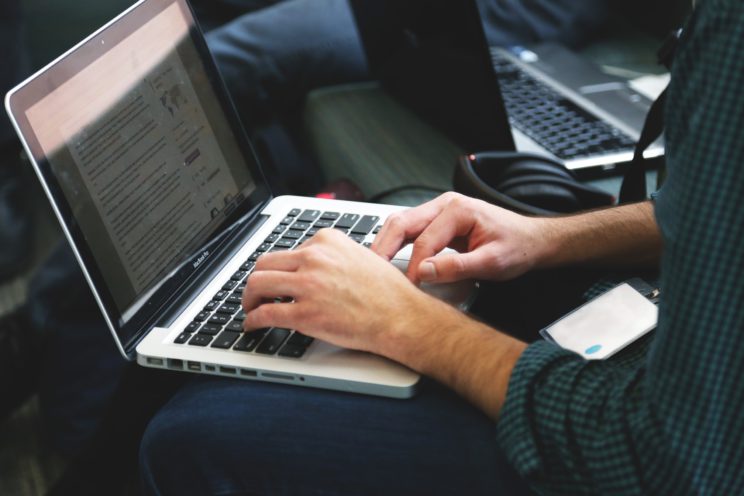 Before we highlight the best freelance writer websites, however, it's important that you know more about the different ways to make money writing online content. 
They include:
Blogging
Blogging is a popular type of writing that involves writing for brands, website owners, and businesses. It's also the easiest to find since there are job boards that cater to blog writing jobs. Generally, blog posts are conversational and you can run one for yourself, whether your goal is to entertain or inform an audience.
Email Marketing
Composing emails for businesses is another method that writers use to earn money. Many companies use emails to gain new customers, which provides an opportunity for writers with any types of sales or marketing background. Email marketing consists of writing headers, sales funnels, appealing newsletters, and email alerts for new services or products. 
Ghostwriting Jobs
Ghostwriting is a term used to describe creating online content for magazines, brands, entrepreneurs, and businesses. Although your name isn't on these pieces, it's highly lucrative and commands higher rates. 
Article Writing Jobs
Websites and online magazines rely on article writers to deliver original content. These jobs are more journalistic and require in-depth analysis. When you land one, it's easy to become a regular contributor if your content is engaging. 
SEO Writing Jobs
SEO stands for Search Engine Optimization. It helps websites rank high in Google search results. SEO writing is also a huge niche and many businesses are eager to hire SEO writers to assist their customer growth and subscriber levels. 
There are mainly two categories of clients on the lookout for SEO content. Some require short compositions containing appropriate keywords. The other group may create projects that suggest keywords and leave their placement to the writer's discretion. 
B2C Writing Jobs
This form of writing concentrates on product-based content. They are creative, fun, conversational, and you are writing from business to consumer. They also contain buying guides, reviews, and tutorial-based content.
Copywriting Jobs
Copywriting promotes products and brands with consumer marketing psychology. Since many stores need engaging content to promote their brands, it's a massive opportunity for writers. Their content includes web copy, CTAs (call-to-actions), landing pages, and marketing campaigns. 
Other popular freelance writing jobs include press releases, e-books, proofreading/editing, product descriptions, grant writing, and business plan writing. 
The Best Freelance Job Boards For Writers
From my personal experience, not every online job board provides great opportunities for writers. Some pay ridiculously low rates and (again, in my opinion) they're not wasting your time on. 
But these are the freelance writer websites that I've had the most success with!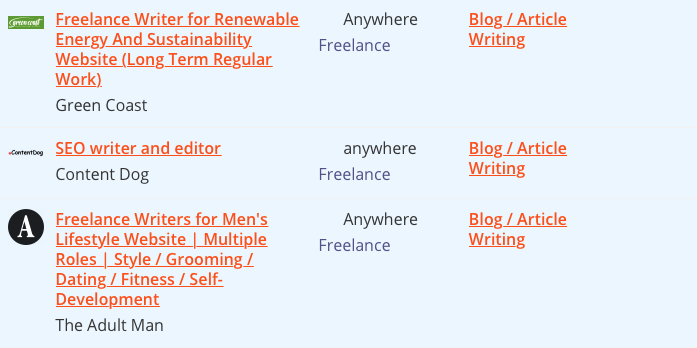 Problogger is an excellent freelance writer website and you don't need to pay any subscription fees. I got some of my first gigs here and still do because the clients pay well and have detailed listings. 
On this platform, clients pay to post jobs, which helps to ensure the genuineness of their advertisements. Also, Problogger has a 'search by keyword' option so that you can view ads according to your specific niche or preferred topic. 
The job board is considered one of the best freelance job boards you can find and it's updated daily. Plus, you'll be able to look through a variety of useful tools to help you learn more about editing, formatting posts, and utilizing tools for popularizing blogs. 
Problogger offers remarkable means for bloggers to study the business section of blogging. It has a simple interface, dashboard, and hosts employers as well as content writers. If you are an aspiring writer or want to start your blog, this is the job board for you.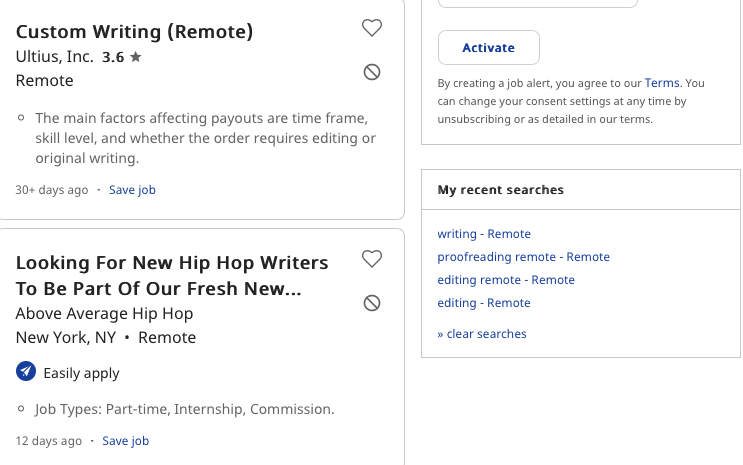 Indeed is an expansive website that allows you to find new writing jobs in virtually any industry. It's a national job board that makes it easy to search for relevant freelance content writing jobs in your local market or from national conglomerates offering remote work. 
The freelance job board has a friendly user interface with employer ratings. And that makes it simple for freelance writers to check for experience levels, company, salary range, and other factors. This site's best feature is that it contains jobs in a HUGE variety of industries, including healthcare, food, SEO, business, social media, and many more.
I love using this website to search for jobs because I can explicitly seek out a writing side hustle quickly. Whether you're an aspiring writer or one seeking to expand your clientele, this virtual board offers every content writing niche. They make sure listings are fresh and they post unique ads you won't find on other job boards.
Glassdoor offers an online job board for content writers and other careers. It allows you to create personalized profiles tailored to find positions related to your skills and interests. 
Also, Glassdoor showcases reviews that reveal hints of working conditions, management style, and wages. They also publicize other peculiarities relating to potential clients. These help you style your resume and cover letter to fit precise job roles. 
Many freelancers, including myself, have found this freelance job board for writers useful because it provides job-specific interview tips. Moreover, it allows you to set your pay rate. If you're new to freelance writing and have no idea of what fee to ask for your writing skill, then you need to exploit Glassdoor's handy insights on freelancer's wages. 
The site also has an online assessment tool that uses your location, role, company, and experience to provide a custom-made evaluation of your worth. Finally, by design, they tender your resume when you apply for any job.
Though it has numerous freelance writing opportunities, Glassdoor is more relevant for those looking for full-time jobs. But that doesn't make it any less useful. Glassdoor remains an excellent no-cost platform for freelance writers looking for writing gigs.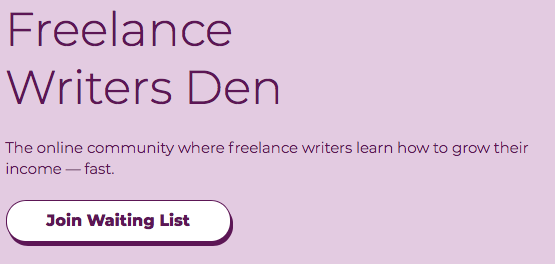 Freelance Writers Den is a paid membership website and community dedicated to helping freelance writers make more money. Launched by Carol Tice, in 2011, it has an access fee of $25 monthly.
I find this site an excellent resource because it offers several lecture series on different aspects of freelance writing. You will find themes such as "How to Get Great Clients" and "The Step by Step Guide to Freelancing Success" on the job board.
The website itself is an informative forum for discussions, critique, and advice about freelance writing. Members can post suggestions, report technical problems, and ask editors questions. Users also get to socialize with other writers and obtain peer-to-peer support. 
The job board has a vast resource library with writing tools, templates, and samples that are useful for managing different aspects of your freelance writing business. It also hosts live events featuring experts on various topics relating to freelance writing. 
If you join live, you can ask questions and, if you're unable to see the live feed, recordings are made available for you to watch on your own time. The only downside to this site is that it's only opened up to new members a few times every year. But you can sign up for a waiting list to receive an invitation when a spot opens up. 

Contena is a flat-rate subscription website for freelance writers. If you are starting your writing game, Contena is a great resource to learn how to set up your business. Although they have two plans (Gold and Platinum), the Platinum Plan is ideal for those who want to get their business profiting fast. 
All jobs on this site are remote and there are various classes of jobs to choose from, such as content creation, copywriting, web content writing, editing, medical writing, and email marketing. There are also many niches available to freelance writers, including social media, food, sports, finance, accounting, education, travel, architecture, and accounting. 
The platform offers agency jobs where you compose content for companies that resell your work, contract positions that remunerate per task, and opportunities to dedicate time to one business or company and be compensated on an hourly basis. 
What makes Contena valuable is the opportunity to access a platform called Contena Academy. The Academy invites success coaches to show freelancers how to start their freelance writing careers. Also, the site promises good-paying jobs that are judiciously picked by team members.
Contena limits jobs to their members-only, so you'll be assured that there are enough jobs when you join the freelance job board.  Consequently, they offer a money-back guarantee which benefits aspiring freelance writers. If you aren't satisfied with their service after 30 days, you get your money back.
A Final Note on Freelance Job Boards
All of the sites mentioned above are the best freelance writer websites I've encountered in my 7 years as a freelance writer. And so you should consider checking them out! You can also find out more about freelance job boards and websites by reading The 12 Best Freelance Websites for Writers.
If you're anything like me, however, you're skeptical about paying for a membership to simply have access to job listings when there are so many free job boards out there. So don't worry if you don't feel like making the investment into a membership-based job board right away. 
The good news is that there are ways to reach out to potential writing clients that don't involve job boards at all! To eventually learn more about a technique called 'cold pitching', check out the How To Become A Freelance Writer Course!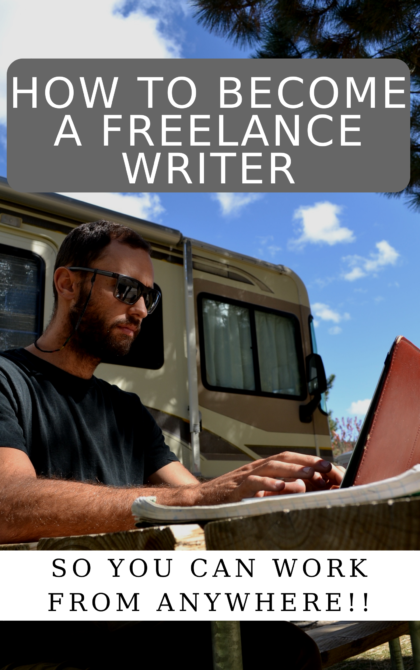 ---
But How Do You Make Sure You're Getting Paid What You're Worth?
Making steady cash is the primary objective for all freelance writers. Many browse the internet ceaselessly without making headway with their intentions. Before you know it, they give up because they cannot piece together how to attract clients. 
Let me be perfectly candid about this: 
THE ONLY WAY TO FAIL AS A FREELANCE WRITER IS TO GIVE UP!
When most of us start out, we willingly cut our preferred rates in half in an effort to win clients over. Although negotiating rates is essential to maintaining healthy client-writer relationships, charging much less than you deserve can become a toxic habit. 
Over time, you'll find yourself working endlessly without actually being paid what you're worth. 
One of the easiest ways to earn more money is by charging more! 
After your initial few clients, gradually raise your rate until you're satisfied with how much you're being compensated. And when you no longer feel that's the case, raise them again! 
How to Attract Higher Paying Clients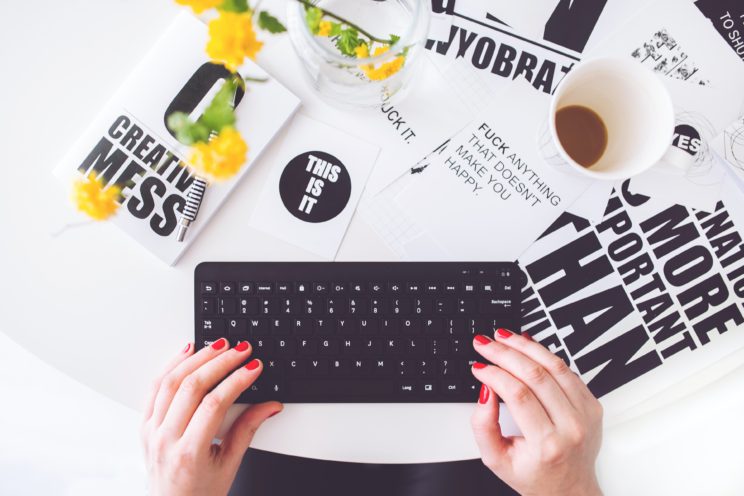 Whether you're new or experienced at freelance writing, higher-paying clients are out there. You just have to know how to find them! So pay close attention to these quick pointers: 
Know Your Strengths
First, know your strengths. Ask yourself what you can do best and how you can do it differently from others. You also need to understand your clients and know exactly what skills they need. 
While it's good to have several skills, marketing just one works well in the freelance writing world. Aim at a specific service or area of expertise. It may be frightening, but it works, and many successful freelancers use this technique. 
If you look at popular blogs, you will find out that they are centered around one niche. And clients are always on the lookout for individuals who are renowned for precisely what they need. And they'll pay you well for your specific skills and knowledge.  
I.D. Your Ideal Client
Next, find out who your perfect client is. Do this by reviewing your pursuits and personal objectives. If you like writing social media posts or excel at SEO writing, use it to fuel your interest and pursue jobs in those niches.
For example, I know a food niche writer who travels the world to gain more knowledge and experience that directly relates to his niche. And you better bet his clients are willing to pay good money for that experience. 
You have to go all out to grow your skills and network! 
So I recommend that you build your own portfolio website. Though social media sites Facebook and LinkedIn offer engaging platforms, owning your website is a better option and a better demonstration of your online writing skills. 
Your website/blog tells potential clients what you can do and displays some of your most recent projects. You can use WordPress to kick start your web campaign, but if you're new to building a website and managing your online presence, I suggest you read through my Wealthy Affiliate Review for 2020. 
Check Job Boards Habitually
Also, use the above best freelance job boards for writers. They can help you to find higher-paying clients and, once you bring those clients onboard, get rid of lower-paying clients that you're tired of working with. 
Habitually checking job boards is a great way to level up your freelance income stream because it's often hard to get rid of a client until you have another (hopefully better!) client to replace that one with. 
So make sure you're using multiple avenues to continuously look for new job listings. Some job boards even have an exclusive nature. They entice individuals who need quality and are ready to pay to get it.
For example, while clients on Freelancer.com look for the lowest-priced option for a job, employers on Problogger need brilliant writers to invigorate their content promotion efforts. They are also ready to pay high rates. (You'll be surprised!)
Engage with Peers and Mentors
Finally, be active in your community. Use online forums such as Reddit, Shopify, Hubspot, Facebook, Instagram, etc. They present an opportunity to meet and connect with other writers. 
Also, you can often get referrals through those you meet at in-person events or through online media. The best way to get higher-paying clients is to engage with other writers who do! 
They are often the first to know when their awesome client is looking to add more writers to their team. And if you have an established relationship with them, you better bet you'll get an email when those opportunities arise! 
Final Thoughts
Scouring freelance job boards should be a regular part of your self-promotion efforts as a freelance writer. These platforms provide an easy place to go to reach out to potential new clients so that you can generate a more reliable freelance income.
It would take you only 10-15 minutes to go through all five job boards daily. But you can also just choose one to look through every other day. Whatever you choose, make sure it fits within your routine, but it becomes a regular habit. 
Establishing your outreach habits is one of the most important steps to becoming a successful freelance writer. But the manner in which you reach out to potential clients is also going to play a huge part in whether or not you receive responses.
To learn more, check out the How to Become A Freelance Writer Course! Enrolling in the course is your first step to attracting high-paying clients and creating a reliable stream of work-from-anywhere income. 
Plus, I'll be there every step of the way to provide tips and advice on how you can leverage your unique skills and experience to earn money writing online content!