It's truly not every day that it takes me months and months to get through a book. But I want to be clear that it didn't take me a long time to get through Dr. Joe Dispenza's Becoming Supernatural for any lack of interest. On the other hand, I was (and still am) supremely intrigued by the book's contents. It just took me a long time to unpack everything within its covers, and I was also working to put many of the ideas from the book into practice in my daily life as I went along.
If the title alone isn't intriguing enough, this book will give you hard science to support the idea that your mind is truly your most powerful tool for healing yourself and attracting abundance into your life. In this Becoming Supernatural book review, I'm going to cover five major themes that I pulled from reading it. I'll conclude with a short selection of quotes from the book to give you more insights into what you can expect when you open the front cover for yourself!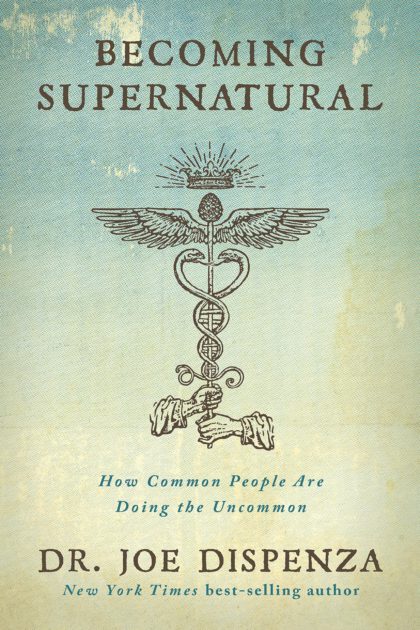 If you're curious, I've got lots of other content you'll enjoy as well! That includes Book Reviews, Writing Tips, and My Books! Just give your preferred link some love and it'll take you where you want to go! 
To be clear, I do receive affiliate commissions from any purchase made through the links on my site. These commissions help me purchase new books and free up more time to read and create better content. So if you decide to use one of the links on my site to purchase a new book, I'd like to say a huge thank you!

Becoming Supernatural Theme 1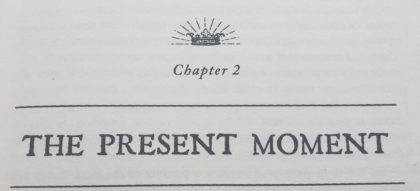 Emotions Are Energy in Motion
Before I began the journey through Becoming Supernatural, I can't say that I really thought all that often about energy. Sure, some days I'd wake up with less or more of it than others. And some days I felt like I could accomplish anything while on others I felt like the proverbial weight of the world was on my shoulders. But the opening chapters posed an interesting question in my brain: how is energy measured?
The answer came in the form of frequencies. Much like radio waves, the energy within the body can also be measured in terms of frequency. When you tune the radio in your car to 98.1 (our local country music station), you're actually tuning in to that specific frequency. Now, how does that apply to our bodies? Could we really have an internal "tuner" that we're capable of controlling?
The short answer is . . . YES! The frequencies of what Dr. Joe Dispenza calls "creative, elevated emotions" can actually be measured in the body. And guess what?! Sure, you guessed it! These frequencies are higher than the frequencies that can be measured and associated with emotions of stress, fear, anger, and anxiety. So when you're happy, grateful, and in love, you're actually vibrating at a higher frequency than when you feel depressed and sad. In other words, you do physically have higher frequencies of energy moving through your body.
The good news about this realization is that we also have the power to change our energy. It might not always be easy and it might require some practice to attain a level of mastery (and can you name a skill that doesn't?). But by changing how we think and how we feel, we can actively alter our state of being. Chew on that for a bit as we move on . . .
Becoming Supernatural Theme 2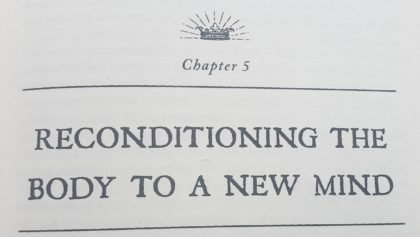 Connecting To Your Breath Is Key
So how do we change how we think and how we feel? Aren't our feelings just biological reactions to external stimuli? Could we really exercise influence over our emotional reactions and the synapses firing within our brains?
Another short answer . . . YES! And according to Dr. Joe Dispenza, one of the keys to learning how to influence how we think and how we feel is learning how to connect to our breath. Have you ever heard the saying that "you can't teach an old dog new tricks?" I've found this to sometimes be true for humans, just as accurately (if not more so) than it is used to describe our furry companions.
As we grow up and form habits that become routines, we condition ourselves to think, feel, and act in certain ways. The good news is that we can change these habits! But first, we must recognize that we have, in many ways, programmed our bodies to become our minds. This has largely been done through repetition and it might be surprising to learn, especially when we live in an age where logic and reasoning are valued over intuition.
However, when our bodies act as our minds, we can get stuck in what Dr. Dispenza refers to as survival emotions. This can be explained by what many folks refer to as the "fight, flight, or freeze response." In other words, when we are in "survival mode" (which most of us are stuck in far more than we might realize) we respond to events that happen in our lives in one of those three ways. We fight, we run away, or we freeze and are unable to act.
Coming back to the breath, the author suggests that by connecting to our breath we can "pull the mind out of the body." And by doing so we can then choose a response that doesn't fall into one of those three "survival mode" categories. By connecting with your breath, you can alter your vibration, change your frequency, and thereby change how you react to external stimuli. This is key to becoming supernatural because it gives you the ability to control how you react to events that occur in your life, even if you cannot control what those events are. 

Becoming Supernatural Theme 3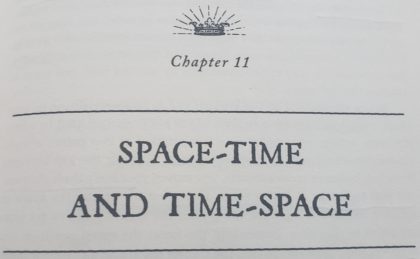 Confusion Leads to Learning
How do we learn best? That's a centuries-old question that doesn't seem (at least to me) to have a simple answer. Traditional education has failed many students because they didn't learn through "traditional" methods. As a result, education is becoming more and more creative, diverse, and individualized. But Dr. Joe Dispenza argues that confusion is the precursor to the accumulation of new knowledge.
Can you think of a time when you were extremely confused or frustrated? What were the circumstances surrounding that confusion or frustration? And, thinking back on it now, did you learn anything from the experience, good or bad?
I'm hoping that the answer to that last question is yes because I believe it is largely our purpose here on Earth to uncover the lessons sent to each of us through our unique experiences. Framing life through a lens of continuing education can help us make sense of the senseless. It can help give meaning to what we sometimes view as meaningless. And it can help us create a purpose for our lives when we otherwise might feel devoid of a "true calling."
I placed this theme right in the middle of this review for a reason. By now, if you're still with me, you may be feeling a little confused by the ideas that I've offered thus far. And that's ok! I can think back to some of the most confusing and frustrating times in my life where I wasn't sure who I was or what I was supposed to be doing. And without a doubt, some level of clarity came out of each of those times. The trick can be to have patience and to allow those lessons to present themselves in good time. Keeping that in mind, let's continue on to Theme #4!
Becoming Supernatural Theme 4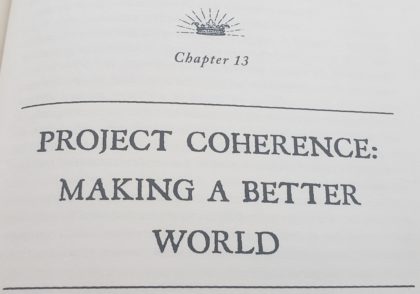 The Heart and The Brain MUST Communicate Effectively
This is a theme that is near and dear to my heart (pun certainly intended!). I've been contemplating this connection between the heart and the brain for many years. And according to Dr. Joe Dispenza, teaching our hearts and our brains to communicate effectively is another key to realizing our full (and vast!) potential.
Dr. Dispenza cites several studies measuring energetic frequencies in the body. What he has found is that "the heart and the brain are in continuous communication with each other." What he has also found is that the heart actually sends more information to the brain than the brain sends in the opposing direction. This might explain why so many people these days talk about 'living from the heart' and 'trusting your intuition' (and for good reason!).
In other words, creating elevated emotions in our hearts can help us synchronize our hearts and our brains! Did anyone else just have a 'light bulb' moment? Ok, but hear me out! Have you ever felt like your heart and your brain were pulling you in two different directions? How did you reconcile this division within yourself? What decision did you eventually make?
I remember when I was living on the North Shore of Maui. I had been there for almost two months and had a flight booked to meet my family on Oahu for Thanksgiving. My brother had been living there for six months and my parents made the journey from California for the holidays. From Oahu, I had another flight booked back to the United States.
Despite my head (and my brain) telling me that the plan was already set, things were in motion, I couldn't bail on my family, yada-yada-yada, my heart was telling me to stay on Maui. It was telling me to keep living and working on the organic farm. It was telling me to stick with my best friend and see out our adventure together. It was telling me this despite the fact that our living situation was less-than-desirable, there was minor conflict amongst the property owners we worked for, and my freelance writing work was suffering as a result of the time I was spending on the property.
I cried for the first time in a long time as I sat at the airport and looked up at Haleakala. My heart and my brain were NOT in coherence. I was literally feeling torn in two by the decision. But I ultimately made a decision out of stress and a feeling that I had to honor a commitment made by my past self. I didn't take the time to create wholeness between my brain and my heart. I didn't take the time to sit in gratitude and make a decision from a place of love and kindness.
I learned a lot from this experience. And Becoming Supernatural helped me to crystallize those lessons so that I can take them forward with me. When we can achieve greater coherence between our brains and our hearts, we make choices that are healthier for us, and for the planet as a whole. 

Becoming Supernatural Theme 5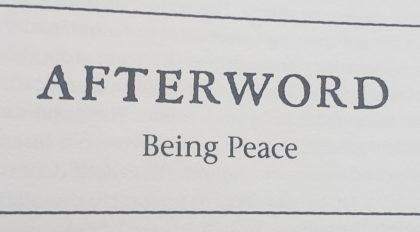 A New Collective Consciousness IS Evolving
As word spreads about the power within each of us to create coherence within our own lives, our collective ability to create coherence around the world is growing. There is little doubt in my mind that evolution will continue its grand experiment. But the question is for how long will our species continue to be part of that experiment?
I am hopeful that the lessons contained in books like Becoming Supernatural will help us change the way we live our lives and the way we interact with each other. It is my hope that it will also change the way with interact with Nature and the other species with which we inhabit Planet Earth (or as some like to call it 'Spaceship Earth'). That being said, I want to leave you with some food for thought that comes directly from the mouth of the book's author:
"Perhaps the biggest hurdle is not only being uncomfortable but also being okay with being uncomfortable, because discomfort is our challenge to grow. It makes us feel more alive."
"The future of humanity does not rest on one person, leader, or messiah with a greater consciousness to show us the way. Rather, it requires the evolution of a new collective consciousness, because it is through the acknowledgment and application of the interconnectedness of human consciousness that we can change the course of history."
Becoming Supernatural Quotes
This is by far a complete summary of the many themes contained within the pages of Becoming Supernatural. I humbly invite you to read the book for yourself because I know that its lessons will sink in much more effectively if you choose to entertain them on your own time. For the sake of giving you an additional peek into the insights contained in this book, here are five more of my favorite quotes from Becoming Supernatural:
"In truth, no organism in nature can endure living in emergency mode for extended periods of time."

"What you put your attention on and mentally rehearse over and over again not only becomes who you are from a biological perspective, it also determines your future."

"When our consciousness is not evolving, neither is our energy."

"With as many as 40,000 neurons, the heart has a nervous system that functions independently of the brain."

"…we are bound and connected by an invisible field of energy, and this energy field can affect everyone's behaviors, emotional states, and conscious and unconscious thoughts."

What are your thoughts on these quotes? Copy the quote that inspired, saddened, perplexed, or otherwise made you feel the most. Then paste it into the comments section below and let me know your thoughts. I'll be waiting!!
About Ballister Writing
As a published writer who aspires to create more works of fiction, non-fiction, and poetry in the years ahead, I'm constantly in search of new ideas that help me hone my writing skills and get thoughts on paper. But I also recognize the importance of writing like there's no one watching (or like no one is ever going to read it). This process helps us get our sincerest thoughts out there and to remain passionate about writing as a hobby.
Please leave a comment below if you are inspired, perplexed, saddened, or angered by any of the stories presented above. I welcome any and all comments and will do my best to respond hastily. I'd also encourage you to share this with others if you found it particularly insightful or helpful. Be sure to tag @ballisterwriting on Facebook or Instagram if you do!
Cheers to Becoming Supernatural!
Tucker Ballister
Becoming Supernatural: How Common People Are Doing The Uncommon
14.39